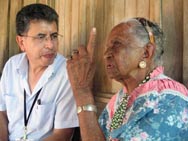 Interesante artículo sobre unos investigadores que buscan el secreto del por qué los ticos tenemos la expectativa de vida más alta del mundo (en inglés).
Report from the 'Blue Zone': Why Do People Live Long in Costa Rica?
Interesting article about why do we Costa Ricans have the highest life expectancy in the world...